Villages of Perrin Pointe
Posted by Mark Hack on Thursday, March 13, 2014 at 8:32 PM
By Mark Hack / March 13, 2014
Comment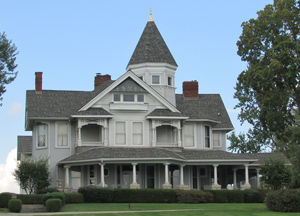 Collaboration between a property owner, developer, and Indiana Landmarks has resulted in a redevelopment plan with a historic Jeffersonville house as its centerpiece.
The John Hoffman House, an outstanding-rated Queen Anne style home, was built c.1890 for the owner of the Monongahela Coal and Coke Company. Originally part of a 120-acre farm, the 15,000 square-foot mansion now sits on seven acres overlooking the Ohio River. The house and land had been on the market for nearly eight years before owner Neal Harding decided to develop the property as a housing subdivision. Millennium Development asked Indiana Landmarks for guidance designing a plan that would feature the Hoffman House.
The new development, Perrin Pointe II, will turn the historic mansion into two condominium units. The designer, New Albany-based architectural firm Michell Timperman Ritz, aims to preserve original details, including a grand oak staircase, woodwork, pocket doors, and mantelpieces. The firm's designs for the patio homes will relate the new construction to the historic house.
s expansive front lawn, and created a large central common green space with ornamental fountains and trees to enhance the Victorian setting.
According to Broker/Owner of GreenTree Real Estate Services Mark Hack the units will be available for sale from $339,000 to $439,000. Mark also commented on the overall scope of this project and its uniformity with Jeffersonvilles goals. "This project is special in several ways... the developer has gone out of his way to create greenspaces within this development that will give it a park like feel while adding to the beauty of the Jeffersonville water front."
Jeffersonville City Council President Dennis Julius praised plan. "This was truly a partnership…the kind of cooperation we need for a project like this," he said. "We have to save some of our historic treasures, and I think Indiana Landmarks and Millennium Development have worked to accomplish that."