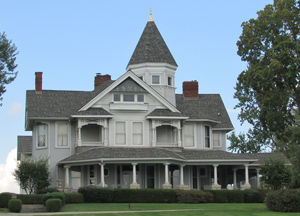 Collaboration between a property owner, developer, and Indiana Landmarks has resulted in a redevelopment plan with a historic Jeffersonville house as its centerpiece.
The John Hoffman House, an outstanding-rated Queen Anne style home, was built c.1890 for the owner of the Monongahela Coal and Coke Company. Originally part of a 120-acre farm, the 15,000 square-foot mansion now sits on seven acres overlooking the Ohio River. The house and land had been on the market for nearly eight years before owner Neal Harding decided to develop the property as a housing subdivision. Millennium Development asked Indiana Landmarks for guidance designing a plan that would feature the Hoffman House.
The new development, Perrin Pointe II, will turn the historic mansion into two condominium units. The designer, New Albany-based architectural firm Michell Timperman...